AFRC Leadership Visits 349th AMW > Air Force Reserve Command > News Article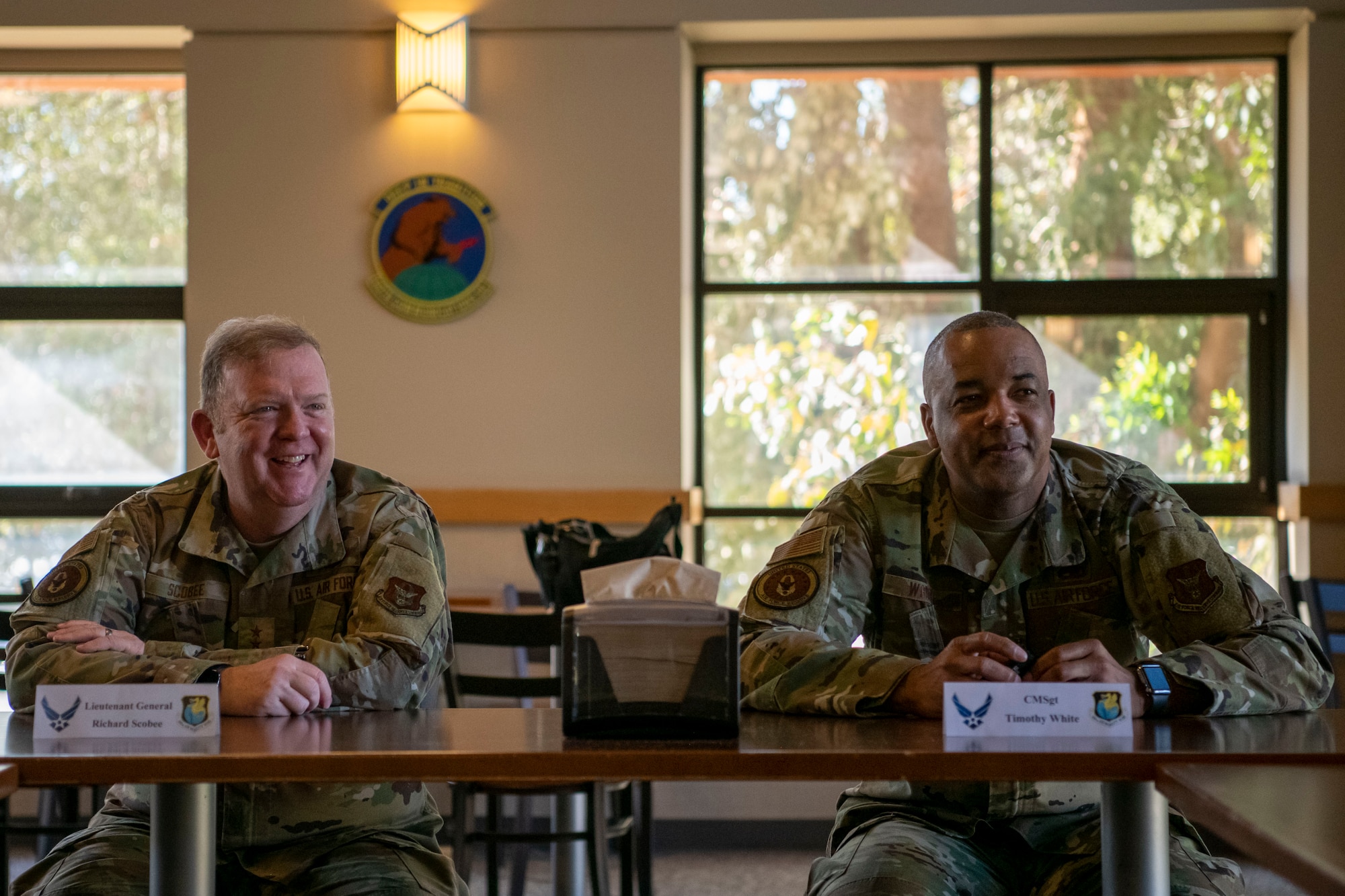 TRAVIS AIR FORCE BASE, Calif. —
The Commander of the Air Force Reserve and his Senior Enlisted Advisor toured the largest associated Reserve Wing Feb. 11-13, 2022.
Lt. Gen. Richard W. Scobee, Chief of Air Force Reserve and Commander of Air Force Reserve Command, and Chief Master Sgt. Timothy C. White Jr., senior enlisted advisor to the Chief of the Air Force Reserve and command chief of the Air Force Reserve Command, visited Travis Air Force Base during the 349and Air Mobility Wing unit training assembly. The occasion allowed the Wing to showcase its people, mission, accomplishments and innovation efforts.
"We know the reserves have operated under a lot of budget constraints," Scobee said. "Twenty percent of the Air Force's capacity is in the reserve, but we only occupy 3% of the budget. In our tenure as reserve leaders, Travis is one of the places we've come to see what those organizational impacts have been for you.
The three-day trip included an overview of each of the Wing's four groups. The 349and The operations group emphasized the full integration of the force into the single wing operating three major weapon systems in the command. They also briefed executives on the addition of the fourth aircraft along with the status of the KC-46 Pegasus program and the KC-10 divestiture plan. By visiting the 349and Medical Group, AFRC leadership has seen improvements made to the physical assessment process and heard from Citizen Reserve Airmen who have supported COVID-19 operations nationwide. They discovered the various missions within the 349and Mission Support Group and participated in a practical demonstration of the unit's explosive ordnance disposal. The 349and The maintenance group also showcased total force integration, as well as the innovative use of training simulators for readiness.
Staff Sgt. Joshua Fowler, 349and Aircraft Maintenance Squadron, led some of the 349and Maintenance group briefings and demonstrated how Citizen Reserve Airmen use aircraft system simulators to keep up to date with readiness training.
"There are some things we just can't do on the weekends, so we really wanted to show how we stay up to date on training and how we keep our Airmen refreshed," Fowler said. "It was important to show this aspect of maintenance training. I had the impression that the general was very impressed with it, and it was not something he expected to see.
The innovation was showcased several times throughout the AFCR leadership visit, culminating in a panel discussion at Nexus Spark, 349and AMW innovation cell.
"I wanted them to know we're here and to see what Airmen are capable of," 1 said.st Lieutenant Judah Anolick, 70and Air Refueling Squadron pilot and director of Nexus Spark. "It was important for leaders to see the possibilities of where we can go when there is adequate funding and people to support and encourage the ideas."
Throughout their visit, Scobee and White made a point of connecting with as many Airmen as possible, always emphasizing that it's about the people. Meals with various groups provided many opportunities for open, two-way discussions between AFRC leaders and Airmen of all ranks. Airman Ericka Tomlin, Administrator of 349and MDG, has been in the Air Force for less than a year and was thrilled to attend such a function.
"I was nervous at first, but it was really nice to be able to ask questions and get advice – we were just people talking," she said. "Being new to the Air Force was very motivating. They told us to always remember why we joined the service and that by maintaining our discipline and motivation we can get through anything.
White passed on some additional tips while attending one of the Wing's Bring On Leadership Development, BOLD, events.
"We seem to think what's important to us is what's most important to everyone else," he said. "But we have to ask the opinion of others. We need to mentor and also seek mentorship, especially from those who are not like us. »
At the end of their visit, Scobee and White expressed their gratitude for the Airmen they met and the drive they demonstrated.
"Thank you for allowing us to be here," Scobee said before leaving. "We have had the opportunity to speak to many of your leaders and we understand that there is a lot of work going on in this organization. It's pretty obvious to see the enthusiasm you have here and it's great because without organizations like this we'd be lost – we're so proud of the things you've been able to do.