Be[In]Crypto Video News Show: Bitcoin Pizza Day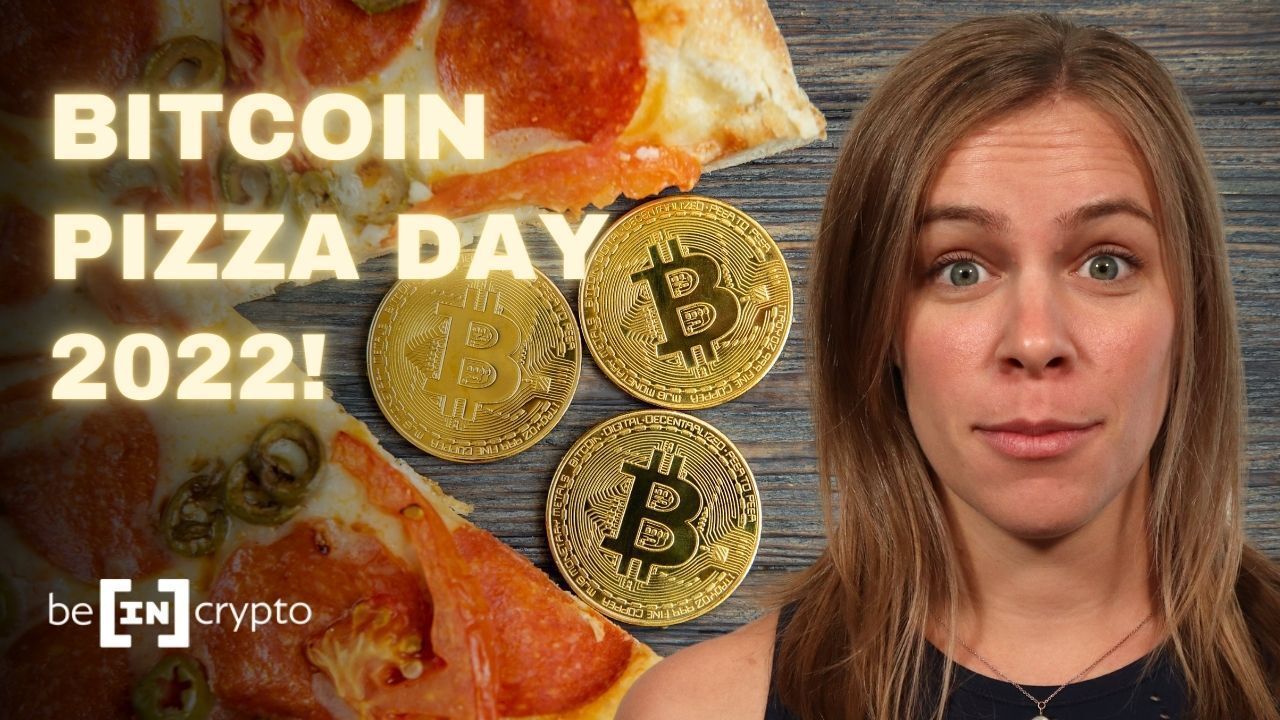 In this episode of Be[In]Crypto's Video News Show host Juliet Lima dives into the story behind Bitcoin Pizza Day, which takes place on May 22.
Pizza requested
On May 18, 2010, a user by the name of laszlo, later revealed as Laszlo Hanyecz, posted a message on the bitcointalk forum: "Pizza for bitcoins?
The demand for a commercial transaction, where real goods were purchased in a consumer setting, was bold since throughout 2010 the price of bitcoin never rose above $0.39.
In his post, Laszlo proclaimed that he would pay 10,000 bitcoins for two large pizzas. Not picky about their origin, Laszlo said the pizzas could be homemade and taken to his house, or ordered for delivery. He also specified his favorite toppings, asking for onions, peppers, sausage, mushrooms, tomatoes and pepperoni.
Many users responded to Laszlo's published request. While some expressed interest in the offer, many lived outside the United States and thought it might be odd for an international number to order pizza in Jacksonville, Florida.
As Laszlo began to wonder if the proposed price was too low, others jokingly questioned his motives. Bitcoinfx asked if he was hungry or just liked pizza?
"I just think it would be interesting if I could say I paid for pizza in bitcoins," he replied.
The first commercial use of bitcoin
On May 22, 2010, Laszlo posted again on the bitcointalk forum; an article that lives on in the history of bitcoin:
"I just want to report that I managed to exchange 10,000 bitcoins for a pizza," attaching a photo of two large Papa John's pizzas. This historic purchase of two large pizzas was the first recorded bitcoin business transaction, paving the way for the application of bitcoin today.
Indeed, Bitcoin has continued to rise in value since 2010, but persuading others of its original value was a crucial first step. As for those 10,000 bitcoins used to buy the two big Papa John's pizzas? This transaction is now worth approximately $400 million.
Every year on May 22, Bitcoin Pizza Day helps honor and commemorate the industry's love of bitcoin and pizza, honoring Laszlo's first attempt (and success) at using bitcoin. to transact for a good or service.
12 years later…
Fast forward 12 years later, where business transactions using bitcoin occur daily.
Countries like El Salvador, Central African Republic, and Panama have already started making waves, while rumors that Mexico, Honduras, and Fiji are starting to use bitcoin technology have also started circulating.
Additionally, popular bitcoin movements such as Bitcoin Beach in El Salvador, Bitcoin Lake in Guatemala, and Bitcoin Ekasi in South Africa have sprung up.
New products are launched almost daily. Using crypto to solve email spam, interest-bearing savings accounts, hardware wallets, more exchanges, and crypto gift cards.
Speaking of the legitimacy of the technology, recent reports from financial institutions such as Goldman Sachs are beginning to take Bitcoin more seriously, offering Coinbase a Bitcoin-backed loan and Fidelity Investments announcing they will begin offering retirement funds. Bitcoin 401k.
Soon we might even see a Bitcoin ETF in the United States.
So this Bitcoin Pizza Day, do yourself a favor and order a pizza. You don't have to use bitcoin, but if you can, you probably should. Maybe take more than you need, in case you like to snack and think about all the people bitcoin has impacted. Bitcoin Pizza Day is a day of reflection and celebration.
Warning
All information contained on our website is published in good faith and for general information purposes only. Any action the reader takes on the information found on our website is strictly at their own risk.