Learn to fly again… > Air Force Reserve Command > News Article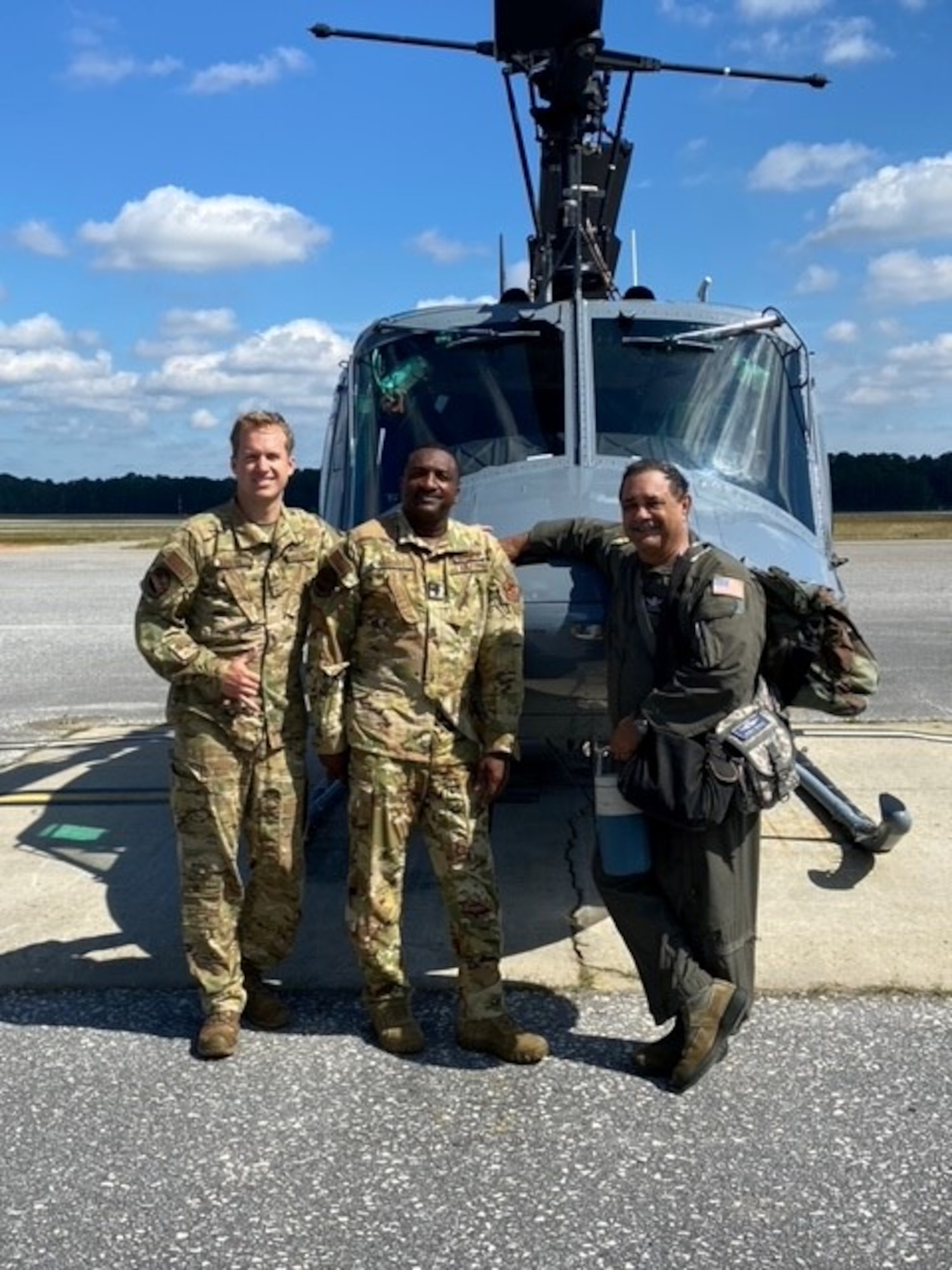 MAXWELL AIR FORCE BASE, Alabama —
As the last C-130 "Hercules" aircraft departs the 908th Airlift Wing for new homes, the remaining members prepare for a likely re-mission in the Air Force's first MH-139 "Grey Wolf" helicopter.
Several of the Wing's C-130 pilots chose to learn to fly the helicopter so they could stay here as instructors.
The first step in this process is to complete the TH-1H Rotary-Wing Fundamentals course taught at Ft. Rucker, Ala. 908th Operations Support Squadron Director of Operations Lt. Col. Jeffrey E. Randall is the first member of the wing to complete the course.
"It was an honor to be the first member of the 908th to complete initial training," Randall said. "They have a very good training program at Fort. Rucker…I think every one of our members will come out of the course fully qualified.
The 4-month course is designed specifically to train helicopter pilots who have previously flown fixed-wing aircraft (there is a separate course for new pilot trainees with no previous experience), and USAF pilots transitioning from a fixed wing aircraft to rotary wing aircraft will start there. . Student experience ranges from fighter pilots to cargo pilots and everything in between, including Air Force Thunderbirds. Instructors leverage this previous experience to make the transition faster and easier.
Students begin by learning the capabilities and limitations of aircraft, then move on to landing, takeoff, hover and emergency procedures. After a check-ride (an assessment of specific maneuvers in a training block), students progress to the instrument phase (where pilots learn flying skills by reference to flight instruments), then practice flying and landing in formation at low altitudes at a distance in designated fields called "RT" or remote training sites.
"We sailed and landed there," he said. "First 300 feet above ground, then 100 feet. After that, we flew 150 feet and landed in a two-ship formation. We also practiced day ops, then moved on night operations.
Training was easier for him because he has previous experience as a helicopter pilot with the US Army National Guard, but doesn't think the transition will pose insurmountable challenges for other pilots. Randall explained that there are many similarities between flying an airplane and a helicopter, such as pitch, air power and speed, takeoffs, landings, and helicopter range. being the biggest differences. He advises other trainees to keep an open mind and be ready to learn, but also not to "throw away" what they already know on the flight.
"To steal is to steal. Pilots have what we call 'air sense' – a situational awareness of what's going on around you. The difference is learning to control the plane and making it do what you want it to do. This is the hardest part with a helicopter, as you have to use all four ends at the same time. You still need air sense, but maybe a little less because you're moving slower and have alternatives when landing. For example, it is easier to find open ground to land than to find a runway.
The next phase of training before attending MH-139 Familiarization is the TH-1H Instructor Training Course, also at Ft. Rucker. Thereafter, Randall and other "graduates" of the 908th AW would serve as instructors there until the FTU was established.
Located at Maxwell Air Force Base and currently operating a fleet of C-130H Hercules cargo aircraft, the 908th is Alabama's only air reserve wing. The Wing has approximately 1,200 Citizen Reserve Airmen, serving in more than 20 career fields, with Air Reserve technicians, civilian employees and active duty reservists conducting daily operations. Maxwell was designated as the preferred location for the new MH-139A Gray Wolf helicopter formal training unit last November. When it becomes official, the 908th AW will divest from the C-130s and execute the new mission.