Service knows no boundaries > Air Force Reserve Command > News Article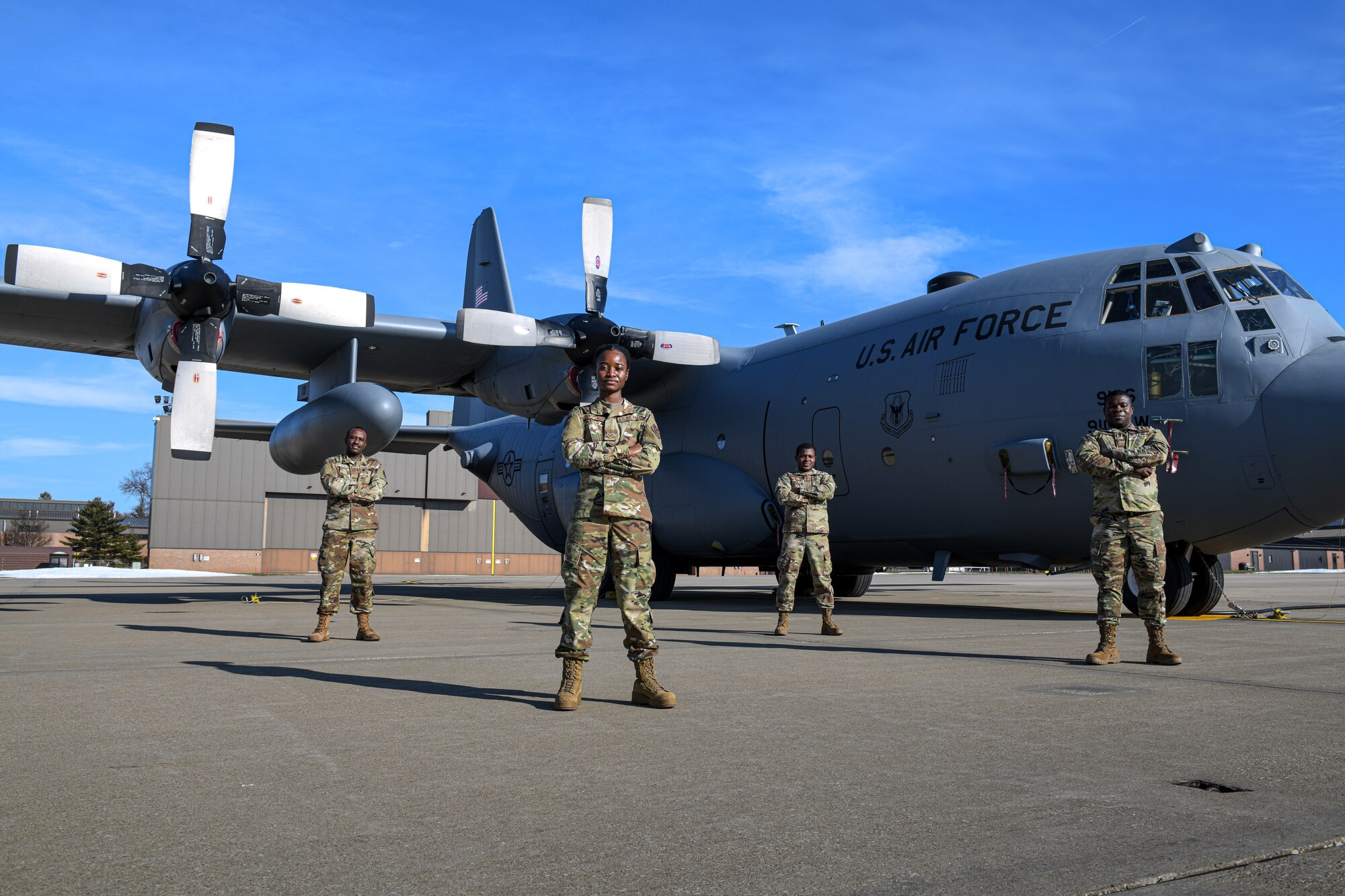 YOUNGSTOWN AIR RESERVE STATION, Ohio —
Every day, immigrants come to the United States seeking a better life in a country full of opportunity. It's not every day someone finds out about this opportunity while serving in the US military. In Vienna, Ohio, a small Air Force Reserve base not only has this rarity, but has four Citizen Reserve Airmen, all from African nations, serving with the same squadron. .
While each Airman's story is unique, they all moved to the United States to better themselves and the world around them.
"The Air Force is the best in the world, I mean the biggest, and I wanted to be part of something big," said Senior Airman Patrick Ikua with a beaming smile. Ikua is a vehicle equipment maintenance technician assigned to the 910th Logistics Readiness Squadron.
The 910th LRS organizes and trains reserve Citizen Airmen in the highly specialized areas of contingency warfare planning, fuels operations/distribution, materiel management/distribution, and supporting vehicle management/operations. contingencies and exercises.
"A few years ago there was a guy in an Air Force uniform who came to my home country of Kenya," Ikua said. "He was there to train me and others in disaster management. After this experience, I felt that I wanted to be like him one day. When I had the opportunity to come to America, I knew I had to fulfill my dream of joining the Air Force.
Senior Airman Bernice Agyepong, a traffic management technician assigned to the 910th LRS, also talks about the opportunities she pursued in the United States.
"There aren't many opportunities in Ghana," Agyepong said. "In the United States, there are so many opportunities if you are willing to take the initiative to improve your life. I am always competing against myself to do better.
Another airman from Ghana worked tirelessly to save enough money to come to the United States and since the move has been supporting his mother and other family members in his home country.
"I got a construction job in Ghana and used all the money I had saved to pay for my papers and my flight to the United States," said Senior Airman Joseph Essilfie, a technician in material management of the 910th LRS. "My family expects me to do something with my life and help them stay at home. There is nothing to go back to Ghana, and I have to do it here in the United States whether I like it or not. I must take advantage of the opportunities that the United States has given me.
In Ghana, joining the military can be tough, but that hasn't stopped Senior Airman Eric Appiah, a materiel management technician assigned to the 910th LRS, from finding a place to serve.
"Joining the army in Ghana is challenging, to the point of being almost impossible," Appiah said. "Joining the army was my childhood dream, but unfortunately I was not able to take this opportunity before arriving in the United States. When I realized that I could fulfill my dream in the United States, I decided to join the Air Force Reserve to contribute to their humanitarian services and help unstable countries.
Appiah's emphasis on humanitarian efforts is shared by his fellow airmen.
"The support the Air Force gives to other countries is amazing," Ikua said, pride apparent in his voice. "Participating in change is a source of inspiration for me. I wanted to be part of an organization that brings change to humanity.
The sense of pride, honor and dedication to serving in the US Air Force that the four Airmen hold is evident to their squadron commander, Maj. Tina Hannasch.
"All of these Airmen came from a foreign country, had to assimilate, and they are so happy and grateful to be in the United States," Hannasch said. "I learned from them that happiness is contagious. Their constant smiles and positive attitude make me and others around them strive to be better. They are a model of courage, resilience and bravery.
"Being in the military is a source of pride," Agyepong said, with a bright smile. "Prove to myself that I can become and achieve anything I have in mind. I want to be able to look back years and tell myself and my family that I defied all odds to be in the US Air Force. Knowing that somehow my name and contribution is part of the US military.
Appiah has a sense of gratitude for being in the United States and serving in the Air Force.
"I feel very lucky to be here," Appiah said. "There are so many opportunities here to improve my life. With a positive attitude and resilience, you can do anything in this country.
Ikua with bright eyes said, "It's an honor to serve in the Air Force and I won't take this opportunity that I have taken for granted."
This group of airmen from African nations can be an inspiring reminder of the incredible privilege of being an airman. The daily mindset is common and their enthusiasm to serve is a great mindset to instill.
The 910th Airlift Wing is a diverse force of Reserve Citizen Airmen from many walks of life and backgrounds and, as in this case, nations. They may have different reasons for serving, but they form a single team to carry out the unit's mission.
"Every day in the Air Force is memorable for me," Agyepong said. "Being able to meet different people from different backgrounds who impact your life in different ways. Having the opportunity and privilege to wear our uniform. Experiencing things that only a small percentage of the population does, that's really special.