US and Jordanian Airwomen Partner in Excellence > US Central Command > News Article View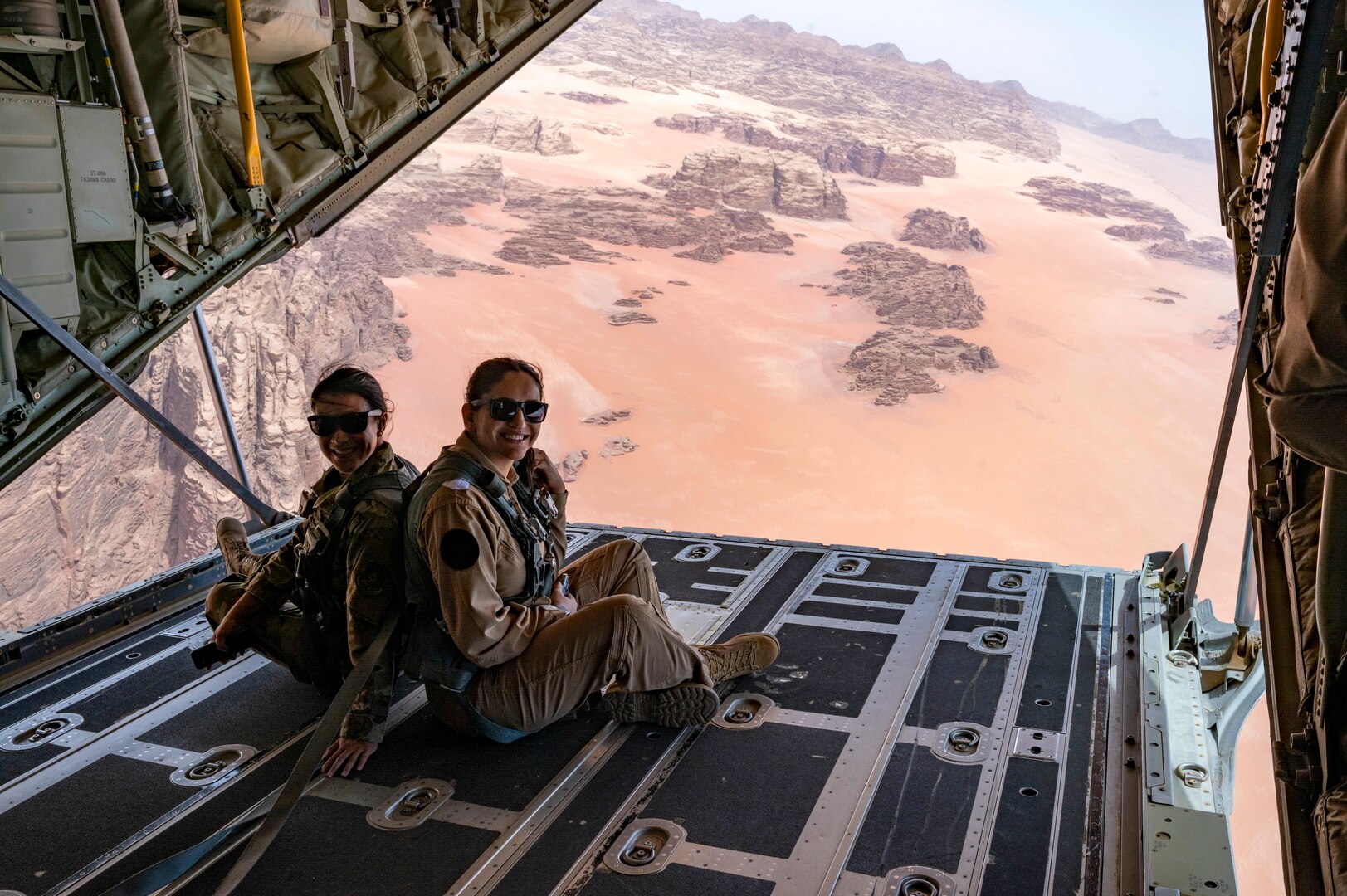 AMMAN, JORDAN – The U.S. and Royal Jordanian Air Forces are teaming up to celebrate women in aviation.
This partnership, launched in September 2021 between the U.S. Air Force and the RJAF, focuses on empowering women in aviation as a way to cultivate and strengthen relationships.
"We bring together American and Jordanian women pilots to discuss common goals in their chosen profession," said Lt. Col. Alden Gilroy, air attaché at the US Embassy in Amman and chief of operations. of the attache. "These engagements have been very meaningful and greatly enhance the vital relationship between our two air forces, especially with respect to this very important partner nation program."
For the RJAF, these are the first female airwomen to evolve into their leadership roles.
"This program is a fantastic opportunity to underscore the commitment of the United States and the RJAF to supporting female airmen," said Lt. Col. Jennifer Pruitt, 26th Expeditionary Rescue Squadron commander and HC-130J pilot. "The women of the RJAF are pioneers and they are paving the way for future airwomen. It was an honor to meet them. »
Since their first meeting in the fall of 2021, these pioneers of female aviation have met several times allowing women to engage in a team spirit and demonstrate their abilities in the world of aviation.
"Jordanian women are wonderful hosts," said Captain McKenna Hall, pilot of the 26th ERQS HC-130J mission. "Their professionalism, dynamism and focus are highly appreciated and admired. The RJAF fosters a wonderful environment for service members to learn from each other.
The RJAF held an event in March highlighting its combat search and rescue capabilities. The engagement included a mission brief, CSAR exercise demonstration, static aircraft immersion tour and group lunch. The one-day event provided an opportunity for women from both armies to build camaraderie, share career stories and encourage one another.
"The CSAR demonstration really showcased the RJAF's level of aviation sophistication," Pruitt said. "It's obvious how much pilots love to fly and want to excel in their craft."
Pruitt and her squadron returned the honor by welcoming female RJAF pilots several weeks later for a unique opportunity to fly an HC-130J mission at low altitude over the outlying areas of the region.
"This experience was the first time I had seen this part of our country from an airplane," said Lt. Sana'a Alnsour, pilot of the RJAF 8 UH-60 Black Hawk Unified Command Helicopter Squadron.
Inspiring and empowering women in aviation is a common goal for the U.S. and Jordanian air forces, and this program offers unique opportunities to encourage excellence in their female airmen.
"Working with American female pilots is good for us," Alnsour said. "We can use experiences like this to inspire a new generation of RJAF women."